Episodes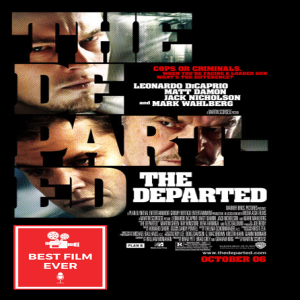 Tuesday Mar 15, 2022
Tuesday Mar 15, 2022
We don't want to be a product of our environment. We want our environment to be a product of us. Join your favourite TransAtlantic podcasting crew – Ian, Ethan and Georgia (Liam's undercover) as we're heading to Frank Costello's side of the tracks in The Departed. brought to us by BFF of the BFE, Hermes. We're shipping up to Boston in our 113th episode as we discuss:
What a great cast this is and how Jack was the 2nd choice for Frank Costello
Which Hollywood A-Lister procured the production rights for this film and then passed on acting in it to do a different picture.
We admit this is hypermasculine. Is it toxically masculine though?
We have results on polls that discuss Disco and if Ethan was right that Lethal Weapon was worse than Murder on the Orient Express
Georgia tries to articulate what exactly her face blindness is
We discuss the many creative contributions of Jack Nicholson to the role
We're joined by Hermes who shares his thoughts on the film, the movie industry at large, and Canadian Mist
Ian and Hermes share their backstories with The Departed
Hermes flexes his knowledge of the BFE by making some deep cuts
Whether or not The Departed is the Best Film Ever.
Become a Patron of this podcast and support the BFE at https://www.patreon.com/BFE
We are extremely thankful to our following Patrons for their most generous support:
Rev Bruce
Juleen from It Goes Down In The PM
Lina Oberholzer
Ensign Ian Davies
Chris Pedersen 
Katie McRae
Duane Smith (Duane Smith!)
Randal Silva
The Yeetmeister
Catch more from Hermes in his pod "The Scuttlebutt Podcast" at https://podcasts.apple.com/us/podcast/the-scuttlebutt-podcast/id1503504933
Buy some BFE merch at https://my-store-b4e4d4.creator-spring.com/
Massive thanks to Lex Van Den Berghe for the use of 'Mistake' by Luckydog.  Catch more from Lex's new band, The Maids of Honor at https://soundcloud.com/themaidsofhonor
Also massive thanks to Moonlight Social for our age game theme song.  You can catch more from them at https://www.moonlightsocialmusic.com/
Timestamps for this episode:
0:00 - Opening Banter
4:55 - Shoutouts
14:15 - Deep Dive
1:11:10 - We're joined by Hermes
1:47:25 - Endgame